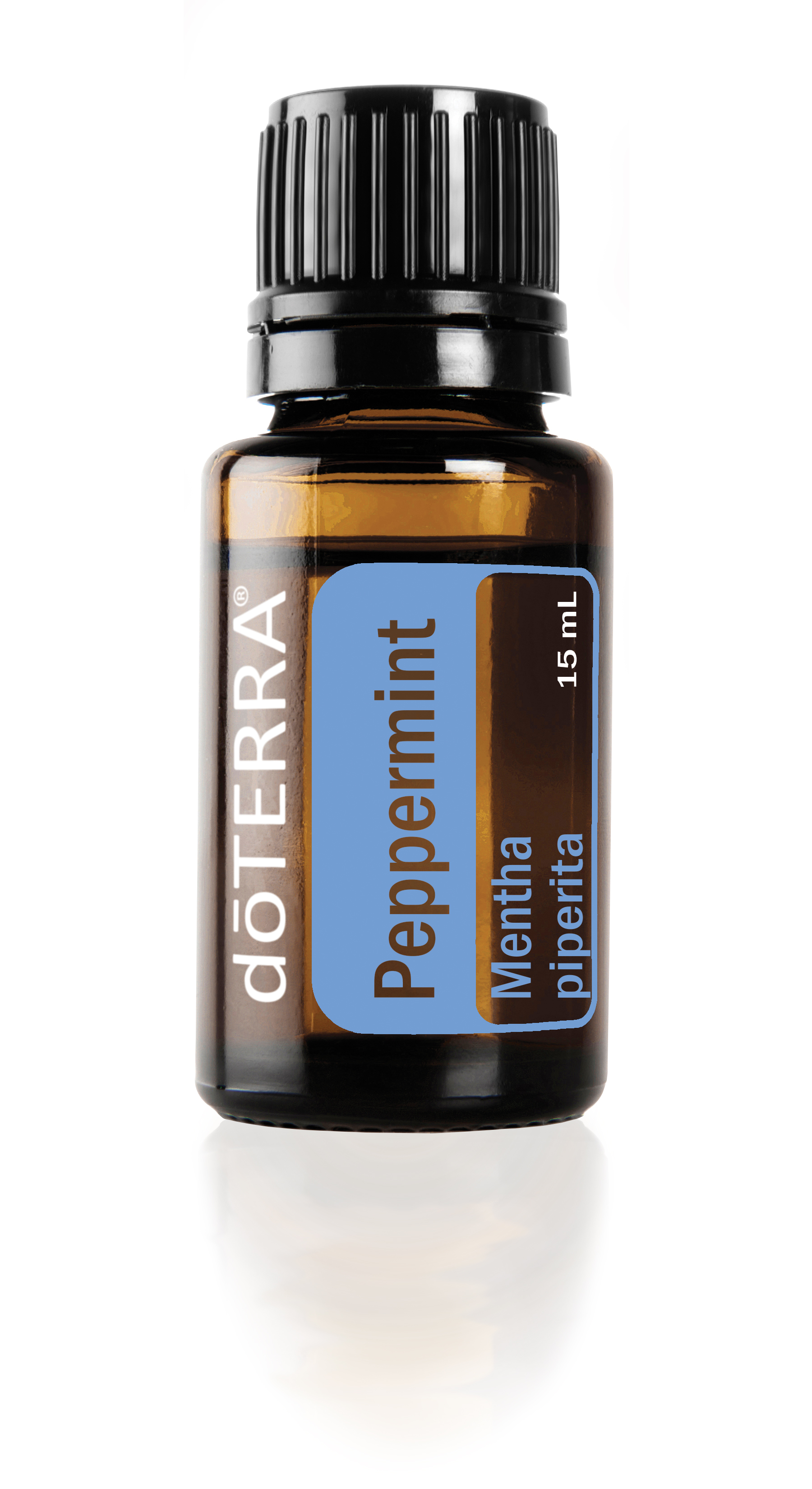 dōTERRA®

Peppermint Essential Oil
1. For a strong and natural mouth rinse, put 1 drop of peppermint essential oil into a mason jar of distilled water. Your mouth will feel refreshed in seconds. Why buy oral health products with adulterated peppermint and other harmful ingredients? Make your own in the comfort of your own home.
2. Peppermint is a great addition to any brownie recipe as well as hot cocoa. I tried this hot cocoa recipe at our holiday open house last December. It was a hit!
3. Peppermint essential oil works wonders for my occasional head tension. I put a drop on my forehead and neck where my tension usually takes place. Try it! Your head will thank you.
4. Since peppermint essential oil promotes a healthy respiratory function, it is a great addition to your flavored water repertoire. Mix some cutup fruit in a glass jar, fill it with distilled water and drink away. This water recipe is adapted from water they serve at my favorite massage bar in West Seattle.
5. Peppermint essential oil is great to put in your diffuser.
dōTERRA®

Petal Diffuser

It is energizing and uplifiting. Try this diffuser recipe after lunch.
6. Peppermint essential oil is also great addition to any DIY whipped lotion. Try this
dōTERRA® Peppermint Foot Lotion. It is easy to make and will help soothe and soften your heels.
7. Have you tried making your own sugar scrub yet? I am obsessed with them. I think it is useless to apply skin products without exfoliating first. I witnessed this in my own skin. I literally have visible lines on my face without exfoliation. Make up accentuates these facial lines! I love experimenting with different essential oils to add into my sugar scrub. Try this
dōTERRA® Candy Cane Sugar Scrub Recipe anytime of the year. I use sugar scrubs in the shower. However, be very careful when using peppermint essential oil in the shower. The peppermint infused steam is great in promoting a healthy respiratory function however, the steam affects your eyes as well! As you may know, avoid eyes, ears, nose and other open crevices in your body when applying essential oils.
8. In the summer, I use peppermint essential oil in a DIY Bug Repellent recipe. Spiders and other bugs avoid the potent smell of peppermint. In my house, you'll see cotton balls with a drop or 2 of peppermint essential oil near windows, and potential entry points for these creepy crawlers.
dōTERRA® Fractionated Coconut Oil
9. Peppermint essential oil is also good for long drives. It helps keep you awake, attentive, and aware.
10. Make your own DIY roller ball massage blend with peppermint essential oil. Simply place 10 drops of peppermint essential oil in a 10 ml roller bottle. Top off with fractionated coconut oil and massage your stresses away. I buy my bottles from Amazon.
PLEASE NOTE: This site is for educational purposes only. Information found on this website/blog is not substitute for medical advice. Any statements on this website/blog and or claims in this site regarding benefits of all products reviewed, have not been evaluated by the Food and Drug Administration. All products on this blog are not intended to diagnose, treat, cure or prevent disease. This post contains affiliate links, which means if you click and buy items from the link, I will receive commission.
dōTERRA® is a registered trademark of dōTERRA Holdings, LLC
©essentialoilsfordailyliving.com